Hoyle Cup, Sunday July 10th
Over 20 entrants competed for the Hoyle Cup under a blazing sun. The finalists are pictured below with runner-up, Chris Jepson, on the left and winner, Steve Lowther, on the right. Many congratulations to Steve. It was a wonderful afternoon of bowling on an immaculately prepared bowling green.
Andy's Man Club Charity Pairs Competition, Sunday July 17th
A bumper of entry of over 20 pairs of 'pros' and 'novices' competed in very warm weather in this one-off charity competition. It was heartening to see so many novices enter and hopefully there'll be some who will represent the club in the sport in future.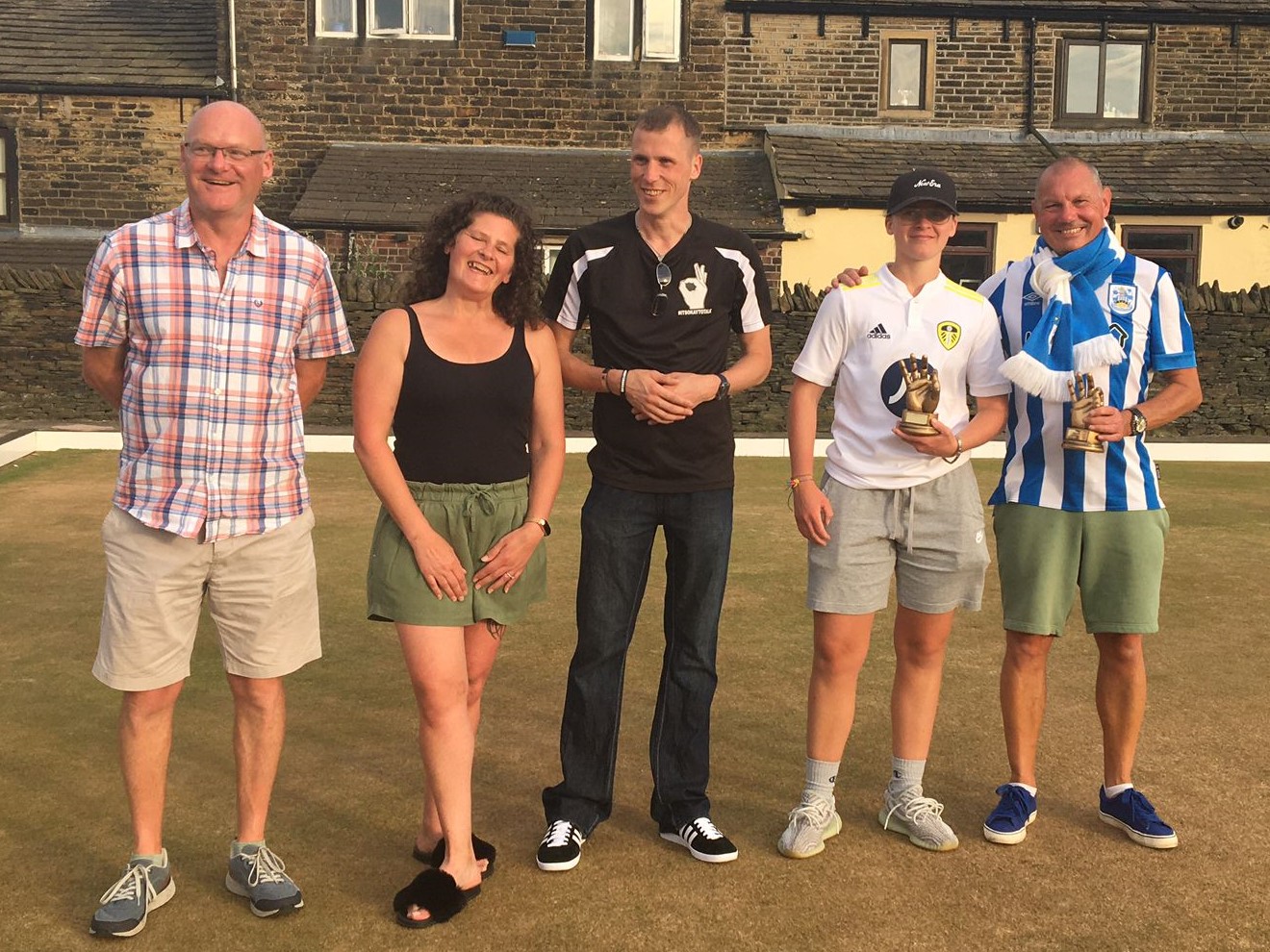 The victors were Harriott Jones and Richard "Scarfman" Hartley (right) who beat Tara Bilski and Chris Jepson (left). James Brown (centre), the charity day organiser, carried out the presentation.
Gledhill Walker Cup, Sunday August 7th, 12.30pm
Entries are invited for the Gledhill Walker Cup, a drawn mixed pairs handicap knockout competition. This will be drawn at 12pm on the day of the competition.
In the event of fewer ladies entering than men a number of the highest handicapped men will be drawn to play with the lower handicapped men
Please enter your name on the sheet placed on the bowling notice board before 11.30am Sunday August 7th.  Alternatively contact Chris Jepson chrisjep62@gmail.com or mobile 07443 519053.
The entry fee is £2 per bowler. The prize money will be determined on size of entry and will be awarded on the presentation evening.
The winners and runners up qualify for the Champion of Champions day taking place on Sunday October 2nd